Setup a time to talk to about you ADU project here.
What are ADUs?
Accessory Dwelling Units (ADUs, aka tiny homes, cottages, granny flats, and in-law units) are the solution to California's housing shortage.
California legislature ratified ADUs as the State's answer to its housing crisis. While state ADU laws have softened since 2017, local agencies continued to prohibit widespread adoption. In 2020, Senate Bill 13 (SB-13) removed most ADU construction barriers and cast aside leeway in restricting ADUs until 2025. ADU permit applications were already soaring before 2020, and with the new rule, we expect to see exponential growth in ADU developments. We will update the status here: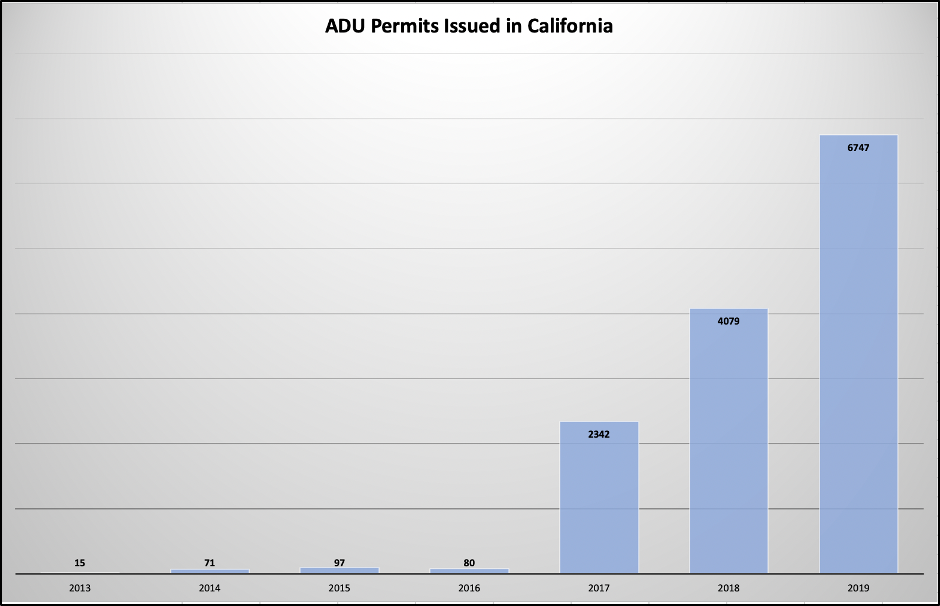 Source: https://www.buildinganadu.com
What Value Can an ADU Bring?
Building an ADU on your property can benefit you in some significant ways. ADUs provide rental income, increased property value, extra housing, and are the ideal home office.
Rental Income
ADUs can add substantial rental income to offset mortgage payments or save for retirement. You've already paid for the land; why not turn it into a money-maker?
Despite their size, high-quality ADU's can generate great rental returns. Just look at this 312ft2 studio ADU in Cypress Park, Los Angeles, which was recently listed for $1,325.
Source: www.apartments.com
Larger ADUs will generate even more rental income, like this 1,100ft2, 2-bedroom unit in Culver City, whose owner asks for $2,750/month.
Source: www.apartments.com
Depending on the location, floor area, and the quality of finishes, ADU rental prices can go well over $3,000/month in California. Here is a 2-bed, 1-bath unit in San Jose that listed for $3,600/month.
Source: www.zillow.com
Increased Property Value
ADUs can boost your main dwelling's resale value substantially. That's because these little homes add living square footage to your property and give prospective buyers the option of generating cash flow. You can even use the increased value and cash flow to refinance and often cover the ADU construction cost to make significant money each month.
Housing Family or Caretakers
An ADU provides a great way to house aging parents or grown children. Costs of living keep rising, and housing is the largest overall expense for most California families. ADUs can help create a multigenerational home while affording everyone much-needed privacy. Similarly, ADUs offer live-in caretakers and nannies the ultimate perk of having their own residence.
A place to work
ADUs are perfect for a home office, as they create an essential barrier between work and home life. From hosting meetings, to simply taking the time to think, ADUs offer all the benefits of an office but without the stress of a commute. Best of all, the tax benefits of carrying on business from an ADU can potentially offset construction costs.
What Type of ADUs are there?
ADUs falls into 3 distinct types: Detached, Attached, and Junior ADU (JADU). Regardless of the style, any ADU must have a separate entrance, living area, and kitchen.
Detached — 150-1,500 ft2
As the name suggests, detached ADUs comprise a separate building on the same lot as the main dwelling. Detached ADUs allow the most flexibility in design and can accommodate a large floor area. You can build one ground-up or create one by converting a shed or garage into a living space.
Attached — 150-1,200 ft2
This type of ADUs physically abuts the main dwelling. Like their detached peers, attached ADUs can be newly built or made by converting an existing space. Some cites allow attached ADUs to have two stories but limit detached ADUs to one. The attached units typically offer the most effective use of the lot area, as they maximize the back yard space.
JADU — 150-500 ft2
The easiest ADU type to build, a JADU, is typically produced by converting the bedroom or garage of a single-family home into a self-sufficient living space. JADUs must have a kitchenette (a small kitchen with a cooktop, sink, and fridge) and a separate entrance from the outdoors. They don't require their bathroom as their tenants can utilize the bathroom in the main house.
How Much Do ADUs Cost to Build?
You may pay as much as $600/ft2 for a full-sized detached unit or as little as $150/ft2 for a JADU (the average ADU is about 750ft2). A rough guide is about $350/ft2 for an 800ft2 unit with basic finishes. The prices depend on the design's intricacy, the level of finishes, site conditions, site access, location, and many other factors. Here's a breakdown of the costs you may encounter during ADU construction:
Site survey — a site plan depicting your property layout, topography, structures, utilities, and boundaries
Soil sampling — determine the foundation requirements that will ensure a robust platform for the ADU
Design — the layout of the ADU showing the interior and exterior features and dimensions
Engineering — assessment of the structure's code compliance and verification of the foundation's suitability for the structure and the property conditions
Permitting — fees charged by the building authorities to process a building permit application often scaled based on the size of the project
Impact fees — fees charged by local governments to offset the costs construction may have on local schools and traffic; these vary widely by location
Utility connections —work performed to make sure your ADU has water, electricity, and sewer connections
Direct construction costs — the cost of materials, labor, and equipment incurred during ADU construction
Landscaping – costs related to hardscaping, grass, sidewalks, etc.
Unfortunately, due to the pandemic, material prices have been on a rollercoaster ride, as demand keeps soaring while the production has slowed. Labor prices also fluctuate as labor shortages persist across the State. The best way to get an accurate cost estimate is to contact a contractor specializing in ADU construction in your area.
How Can I Finance an ADU?
You can apply for a home equity loan or line of credit, a construction loan, or cash-out and refinance your mortgage.
A home equity loan/line of credit may be a suitable option if you've repaid a good chunk of your mortgage already. If you own at least 20% of your property, you can likely borrow against this value — often at very reasonable rates.
Construction loans can vary in size, depending on your ADU's appraised value. Once the bank has established how much your ADU is worth, they'll disburse the funds at intervals as construction proceeds. Once construction is complete, the loan reaches its maturity date. You can repay the loan in full or convert it into a mortgage.
A cash-out refinance allows you to get a mortgage for a greater amount than you still owe. If you've paid down a substantial part of your original mortgage amount, this is a straightforward way to finance your ADU project.
Your city or country may offer grants for ADU construction, especially if you're planning to lease your unit out at affordable rates to help alleviate the housing crisis.
How To Build an ADU
The ADU construction process is like that of an addition and roughly follows these 5 steps: Goals, Constraints, Design, Permitting, and Construction.
Thinking About Goals
First, establish what you want from an ADU.
If you're looking for rental cash flow, your real estate agent can shed some light on how much rent you might charge if you want to lease out your ADU. There are also tools online to help determine how much rental income your ADU can generate such as rentometer.com.
If you're building an ADU to boost your property's valuation, you can ask a real estate agent to gauge how much equity the new unit will add or get a formal appraisal. Its recommended to seek out an appraiser experienced in multi-family housing for the most accurate result. You can also check sites like Zillow and Redfin to see how much livable square footage costs. In the Bay Area it is roughly $1000/sq ft.
On the other hand, if your ADU will create a living space for family members, get them involved to determine how best to meet the family needs.
Next, it's helpful to come up with a priority list and think about some of the following asthetics:
Budget
Floor area
Number of bedrooms/bathrooms
Ceiling heights
Interior/exterior finishes
Entrance location
Privacy
As you brainstorm the design, be sure to consider the constraints of your current property's layout, size, boundaries, and topography.
Property Constraints
A wealth of factors can influence your unit's size, location, and proximity to other structures. These include your design intentions, as well as setbacks and floor area ratios. Since the latter may vary based on your local agency's ordinance, it may be a good idea to consult with your building department when you calculate the ADU's size and placement on the lot. You may need to commission a land survey to confirm your lot's boundaries.
Design
Now your vision must make its way to a set of code-compliant drawings. You'll start the design process by revealing your intentions to an architect, who will draft a set of architectural drawings. These will include the building's floor plans, elevations, and an interior finish schedule; you can choose the latter right away or decide after construction starts. You should review the drafts and give feedback until the architect produces plans that make you happy.
Next, an engineering firm will tailor a structure to the ADU's architectural features and stamp the design to certify that it's structurally sound. At this stage, you may also need a soil report to determine foundation requirements and if the soil needs work to provide a stable base for your ADU. Some architects can draft basic electrical, plumbing, and HVAC plans that tradespeople can implement on the site. Otherwise, Mechanical, Electrical, and Plumbing (MEP) engineers will furnish plans for their respective scopes, and you'll have a set of drawings that's ready for permitting.
Permitting
You'll need your city building department to authorize the construction activities on the site by issuing permits. The permit requirements may vary depending on the project's scope, and you typically have to pay for the application and plan review. Also, most cities have impact fees that are levied against new projects.
After your designer submits the permit application, the building officials will give feedback and may send the package back for revision. The cycle continues until the submittals are deemed compliant, and your application is approved.
Your project may also need the planning department's approval. While permits authorize construction activities, approvals give the green light to the entire development. New state laws facilitate ADU approvals and even waive the impact fee requirement for units smaller than 750 ft2.
Construction
Once you have a permitted set of drawings, construction can begin. Typically, ADU construction will follow this sequence:
Earthwork — grading, excavation, filling, compacting
Foundation — footings, foundation walls, slab-on-grade
Framing — exterior and interior stud walls, floor assemblies, roofing structure, windows, doors, mechanical/electrical/plumbing (MEP) rough-ins
Finishes — exterior finish, drywall, paint, flooring (you may choose some of these finishes at this stage)
As construction progresses, your site will get inspections from the building department. When the ADU is complete, your contractor will apply for a Certificate of Occupancy, and the unit will be ready for use.
Why is now is a great time to build an ADU
Here's why it's now easier and cheaper to add an ADU to your property than it ever was before:
There's no more need for discretionary approvals for conversions or ground-up ADUs that are less than 800ft2 and don't exceed 16ft in height. Local agencies must process single-family property ADU applications within 60 days and not levy impact fees on units less than 750ft2) Home Owners Associations (HOAs) no longer have the authority to reasonably prohibit ADU construction.
Local ordinances must allow ADUs up to 800ft2 and many allow 1,000ft2 – 1,200ft2 if there's more than 1 bedroom.
Converted ADUs don't need a parking spot in almost all cases. What's more, primary dwellings don't require additional parking if they lose a spot to an ADU conversion.
Setbacks are now 4 feet, so you can add a unit to the tiniest of backyards and design an ADU with more floor area than ever before. You may also have 2 ADUs on your property — 1 full-sized unit as permitted by your jurisdiction and 1 Junior ADU (JADU). Many cities are also reducing the minimum distance requirements for detached ADU distances from the main house to accommodate more placement options.
Loosened Measures Expire in 4 Years
There's a short window of time to make use of these relaxed new laws, as they come with an expiry date — January 1st, 2025. Units constructed before this date will be grandfathered in and allowed to exist. At this time, it is not known if the relaxed ADU rules will remain after that date.
What's more, the construction costs have been trending up sharply over the past few years. The housing shortage has driven a sharp increase in material and labor costs that shows no sign of slowing. Time is literally money when it comes to construction.
Finally, it's smart to take advantage of today's low interest rates and build now rather than later, when costs will likely be higher, and interest rates may be less favorable.
What's Next
If you'd like a detailed cost analysis, a full proposal, or simply more information about your options, please set up a consultation with us. We can help you make informed decisions and manage your project every step of the way. Windy City Builders is offering free consultations to help you figure out the best solution.  Setup a time to talk to about you ADU project here.
---